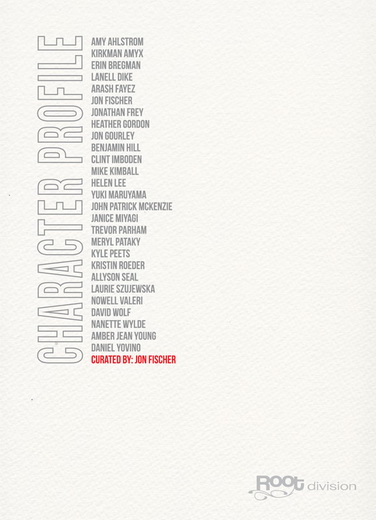 "Character Profile: New Works in Language, Text, and Wordplay"
Curated by Jon Fischer
Opening Reception Saturday July 13 7-10PM (one block from tacos!)
Exhibition Dates: July 10-27
Root Division
3175 17th Street at South Van Ness, San Francisco
free
About eighteen months ago in Golden Gate Park, I had a sudden flash of inspiration in the form of a succession of twenty-eight free associative phrases that I quite immediately knew I wanted to develop into a substantial art piece.
I was associated with Root Division through some teaching work, and decided to go even further and pitch them an entire language based show through their curatorial submission program. Over the course of four of five months of back and forth I refined the concept, got three or four trusted collaborators involved, and the proposal was accepted as the July 2013 show at Root Division! This group show is going to feature the language-based visual artwork of 27 artists including my beloved Ben Hill, Nowell Valeri, and Erin Bregman. I think it's going to be a really fun, multifaceted show featuring but not limited to:
A wall of

Toasted Puns

.
An interactive sound installation in which visitors can manipulate Presidential speeches with obscene gangta rap with old TV commercials, to create their own postmodern soundtrack the way God intended.

Flip Books.

A New York Times vs USA Today

death match.

eBooks (a humongous "e" made out of books).

And lots of other engaging, interactive work dedicated to a spirit of play.
Bring your kids!
My project, "American Fistfight" evokes the early era of cinema with rudimentary moving image sequences produced entirely with screen printed 35mm slides. Several vintage projectors connected with a fabricated control panel will allow visitors to maneuver image sequences for themselves while the results are displayed on the gallery wall.
From the curatorial desk:
Character Profile is a visual arts exhibition featuring projects that explore intersections between the forms, mechanisms and meanings of language. Drawing from a cross disciplinary group of twenty-six collaborators from across the country including writers, visual artists, and craftspeople, Character Profile investigates novel functions of language through a broad range of materials, media and approaches. Many of these works are dedicated to a spirit of engagement and play. The exhibition highlights art designed for direct interaction with visitors and work that provokes expanded meanings and alternative associations. These artists present language as both a medium and a subject, and deftly maneuver words to both convey and critique meaning.