First dance, first fistfight, first girlfriend: having logged many seminal moments of my life at summer camp, it was with a commitment to the memorable that I recently executed my duties as art director for one week of San Francisco Boys Chorus away camp.
It's never really possible to know what kind of impact you are making on eleven year olds, but my basic plan was to win them over slowly by focusing on a precise five day project. Something that would keep kids busy with their hands and look really cool when it was done. Since the goal was to construct set pieces and props for EB's parallel kid operas, we ended up painting a 50×50 inch Resistance-style portrait of Camp Director Claire. In her creation class, EB helped the boys work the painting into their story.
We began with a photoshoot.
I digitally processed one of the better images into seven discrete layers: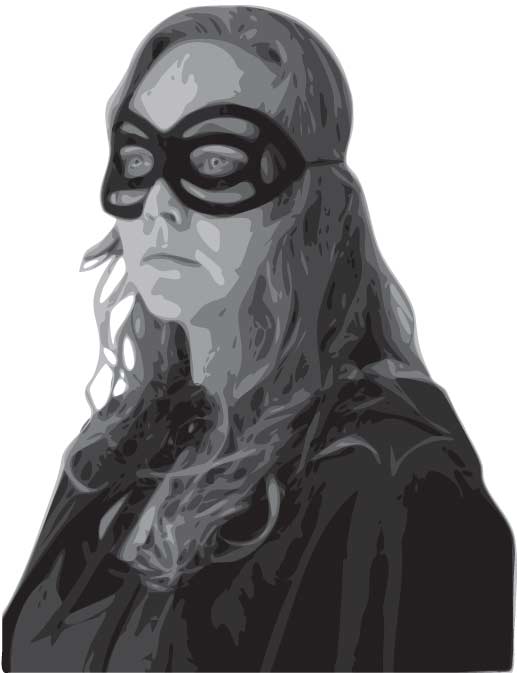 Over the course of five camp days, I projected each layer independently for kids to outline and paint on canvas hung from the wall. Registration marks were used to line everything up.
Then we stretched the canvas on a frame, ready for the show.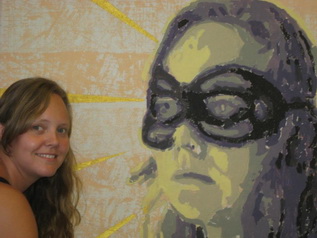 So it was pretty cool. And I got the kids to call me Jono. The painting looked very fine from a distance and I think the boys were into the program. Of course we did a bunch of other stuff. We made signs and banners. One day I chopped up a bit of branch from an apple tree and we made medallions. Located in Sonoma County at a Seventh Day Adventist boarding school on the banks of the Russian River, the setting was a nicer than summer camps I remember but the food a lot worse. A huge thanks to EB, Camp Director Claire, and Jess the counselor.