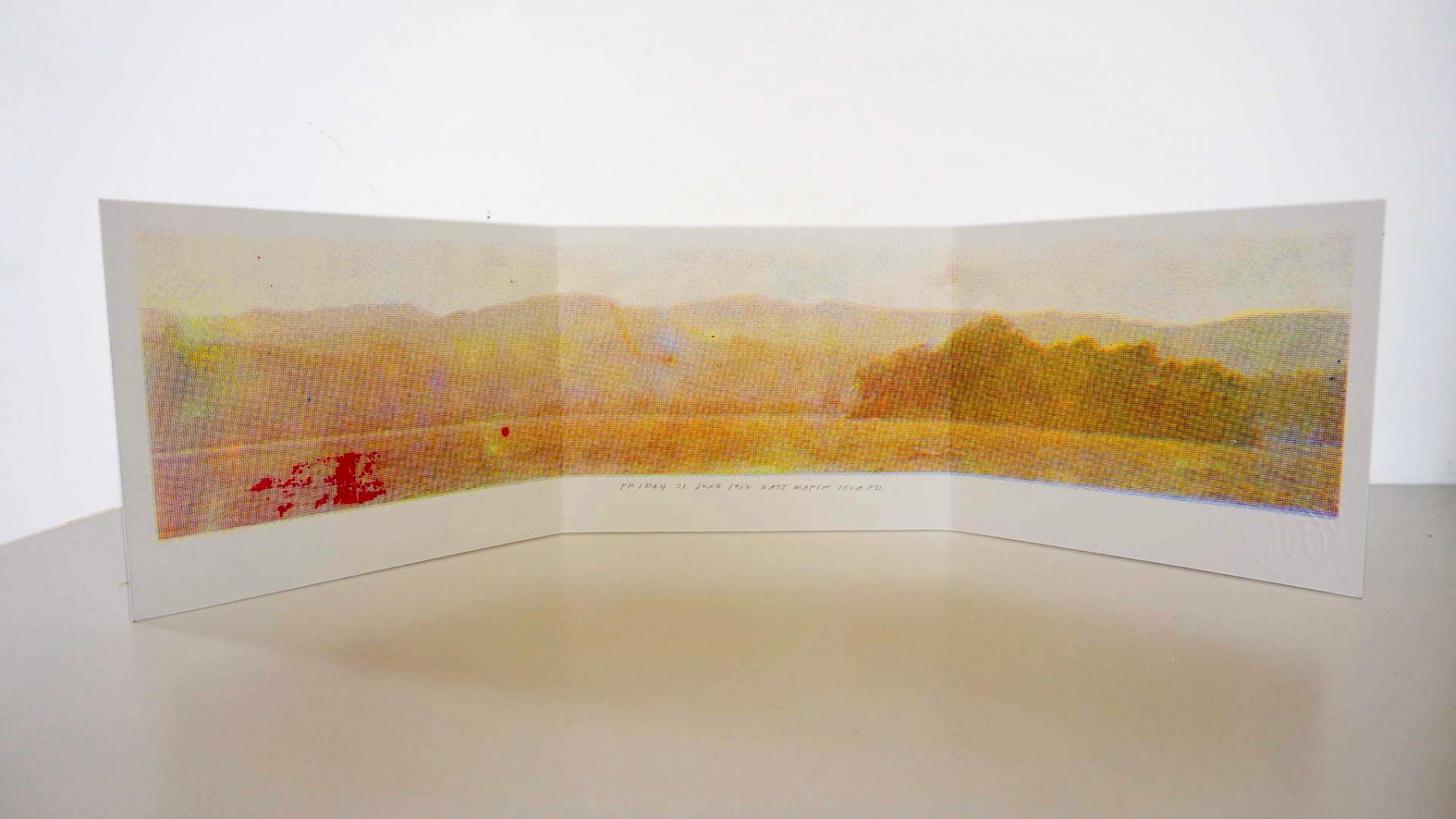 East Marin Island
Media: Screen print on paper
Act of Giving? Mailed to my 2016 subscribers.
Size: 19 x 5 inches
Year: 2016
Notes: EAST MARIN ISLAND is a small island in the San Rafael Bay owned by the U.S. Fish and Wildlife Service. Along with West Marin Island, the two comprise the Marin Islands National Wildlife Refuge. Established in 1992, the refuge is visible from the Vallejo ferry–but requires special permission to visit.
Solstice print from the San Raphael Bay (a little section of the San Pablo Bay near the Richmond Bridge) . I know what you are asking: June 21st was the longest (northern) Earth Day of 2017 but is it the longest day ever? Because earth's spin is very gradually slowing down over the eons, there is reason to believe that every new June 21st is always the longest (northern) Earth Day ever. However, while it is true that earth's days are growing longer via tidal interactions with its moon (for some dinosaurs, one day lasted about 22 hours which made one year last about 401 days), other factors produce short term fluctuations in this progression. Relatively small, irregular events that change the distribution of mass on the earth, such as melting polar ice, also affect the duration of time in one complete rotation of earth, a day. For this reason, there's quite a bit of variation in the length of day over the time we've been measuring, and the longest day on record is June 21, 1912*.
I created this print by layering cyan, magenta, and yellow, and I was surprised by the large variety of color variation caused by micro misalignments of this three layer screen print. There are a million little colors possible by mixing cyan, magenta, and yellow, which is why they are our primaries in the print world.
At the correct scale, every repeating cycle is influenced by accidental fluctuations. On this point, screen printing and geology agree.
*Source: Steve Allen, Lick Observatory