God dammit, I totally lost a blog post. The gist of it was that I had the most action-packed weekend in recent memory.
Critical Mass wasn't quite rained out on Friday, but I would say that the mass wasn't quite critical enough. I got there (The Ferry Building at 18:30 on the final Friday of each month) late and joined a group of maybe twenty other stragglers for a subcritical mass. Subcritical Mass was in some ways more fun but noteably more dangerous than real Critical Mass–there aren't enough bodies to stop traffic and at one point a Honda Prelude came within a foot of hitting me head on at forty-five miles per hour as we biked the wrong way down Folsom Street. We finally found the main group, but it didn't really have enough people to form a collective conscious. Instead we were a bunch of indecisive assholes, tentative at every intersection, and I biked home to work on feather2pixels.com.
So: feather2pixels.com: check it out. I guess this is my best stab at a first draft. Everything you need, nothing you don't. Not that anyone needs any of this crap. I feel good about the modest format, though even this laughably little took me months to program. I can't escape computers.
So after blowing $10 on a misloaded film cartridge, the old Polish dude at Action Camera in West Portal showed me how to properly load my new Polaroid on Saturday morning. After producing a few successful shots, I say "I can't believe I waited till I was twenty-seven to pick one of these up." Every frame looks like it was taken in in 1976!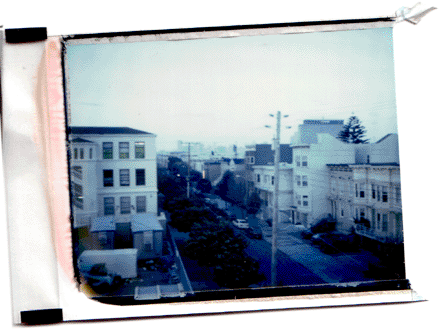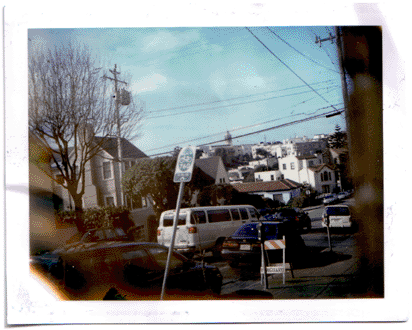 That night, after finding my favorite Dylan album on vinyl, I made it back to the Exploratorium for a sound festival, which was a little disappointing by Exploratorium standards, but I saw some old friends and I felt very cool to be known at the greatest science museum in the world. A pepperoni and mushroom pizza with a pitcher of Bud was enjoyed afterwards at Vincent's.
Sunday started with a surprisingly solid breakfast in North Beach followed by a hike in the Marin Headlands. I've never actually hiked there, but the hills smelled strongly of Calfornia and the Pacific was sparkly from the summit. There are endless clusters of abandoned forts up there, decaying in the caustic fog sixty years after the Japanese didn't invade. A murder of crows kept their eyes on us as we climbed through the ruins and wished that I had bothered to bring along my new camera.
This is Sarah: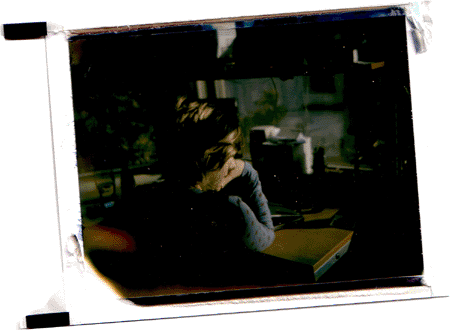 After three unsuccessful attempts to find Rocky II at area video stores, I met Krisitin at the Sunset Baskin Robbins. We settled for the original, which wasn't really a bad thing. And there you go: an exhausting, exhilarating, perfect week. A model for what I want out of life.