Today I finished printing and framing the two latest pieces I have been furiously chronicling here for no apparent reason. By the way, this piece is a small part of a project I am ramping up called "The Twenty-Seven Best Memories of Theodore Clayborne by The Genius Artist Hiromi." If that title sounds intentionally ridiculous, maybe that is because it is meant as more of a story-visual art hybrid; a fictional piece of art might be an okay way to put it. Or maybe the title is ridiculous, which is definitely not what I am going for, but I passionately feel that there is an exciting idea in there and therefore proceeding is just something I have to do.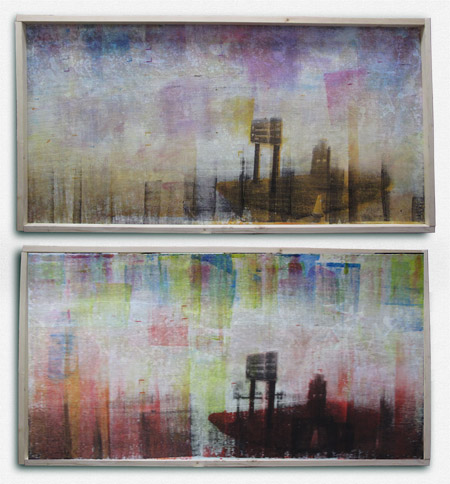 Here's the second piece.  The black was a lot runnier and the whole thing is a bit less nuanced.  It's like the angry, destructive version of the serene and sanguine first piece.
And just so that the  completion  of these prints is not just an occasion for me to write to myself online,  I joined  900 of my closest friends  in this line for a slim shot at exhibiting immediately.
Thanks to Rodney and Andy for tool support.