Summer 2019
Shows
with
Danny Clay
de Young Museum
Golden Gate Park
50 Hagiwara Tea Garden Drive
San Francisco, CA 94118
ONE DAY ONLY
Saturday, August 24 2019 | 12 – 4 pm
Featuring: members of the wind octet
Nomad Session
TURNTABLE DRAWINGS is an ongoing collaboration between composer Danny Clay and printmaker Jon Fischer based on a growing series of hand-molded records. Part sculptural sketch, part three-dimensional print, each record is part of a wide-ranging collection formed using a variety of techniques and materials. Records are imprinted with mathematical tones, original recorded material, or direct casts of existing LPs that include some of history's earliest recorded sounds. Since 2016, the project has been presented in conjunction with over twenty guest artists in many interdisciplinary forms including immersive installations, scored musical compositions, visual art exhibitions, and interactive workshops. Recent installations include Gray Area, the Center for New Music, Kala Art Institute and the McEvoy Foundation for the Arts.
For this performance, Fischer and Clay will mount sonic-based interventions in four of the museum spaces, including the Piazzoni mural room and the Hudon School galleries.
Cafe La Boheme
3318 24th St
San Francisco, CA 94110
AUGUST 2019
RECENT IMPRINTS
Feauring test screen prints on newsprint and paper | Graphite rubbings on paper
(lower level)
1100 California St
San Francisco, CA 94108
AUGUST 2019
Mod Facade
Final project from screen printing camp at Grace Cathedral. A 120 x 90 inch piece based on the geometry and textures of the cathedral. Kids screen printed hundreds of recycled adhesive laser printer templates and stuck them to foam core windows that were fixed to this beautiful cherry frame. The images were taken from graphite rubbings of the cathedral grounds, making the final work not just a representation of the space, but an object made with direct imprints of its physical structure.
Records
"Observations indicate that things are always made of smaller things, leading to the unanswerable question: what is the smallest thing? A loop-like model of the universe may avoid this problem." -S.J. Manetta 1905
Description: A loop-based composition for piano, guitar, custom made sine wave records,
&
three turntables. Designed to create an environment and be performed for an indefinite duration, it was first performed during my 2016 Open Studios visual art exhibition at The
Pacific Felt Factory
in San Francisco. ABOUT THIS PROJECT:  This is the first phase of a project supported by the
San Francisco Arts Commission
to create three phonograph-like apparatuses that generate sounds from a collection of interchangeable, revolving sculptures based on geological landscapes of California. They will function as both (1) instruments played in a musical performance, and (2) works of public art that invite participation in a lobby, airport, or museum. A collaboration with San Francisco musician
Danny Clay
, the project will conclude with performances at the
Center for New Music
during the 2016-17 season. 
Danny Clay
 is a composer / sound artist / teaching artist / general noise-maker from Ohio, currently based in San Francisco. His work utilizes musical games, open forms, found objects, archival media, toy instruments, classroom collaborations, graphic notation, digital errata, cross-disciplinary research, and the everything-in-between. Recent collaborators include Kronos Quartet, Sarah Cahill, Phyllis Chen, Third Coast Percussion, Friction Quartet.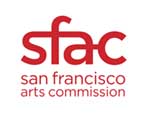 Music
Song of the Humpback Wale
November 2018 Multimedia Installation featuring hand made records. Performed at
Pacific Felt Factory
in San Francisco.