L
ittle Opera
features a comprehensive nine-month program that leads each class of students through the creation and performance of an original opera. On many Thursdays throughout the year, students take specialized Master Classes taught by professional Bay Area artists to deepen their learning. In addition to teaching visual design, on Building Day I help the kids fabricate sets for their annual performance at the Alcove theater in San Francisco.
Listen to The Attack of the Licorice Lemurs
Listen To "Attack of the Licorice Lemurs"
Audio clip: Adobe Flash Player (version 9 or above) is required to play this audio clip. Download the latest version here. You also need to have JavaScript enabled in your browser.
Little Opera Website
Little Opera Annual Performances: By The Year
Year
Venue
Opera
# of Students

2014

TBD

TBD

25

2013
Alcove Theater
The CandyLand Operas: "Attack of the Licorice Lemurs"

&

"An Accidental Trip to CandyLand"
14
2012
Alcove Theater
"Creatures of the Night"
9
Little Opera Journal
Little Opera is definitely one of San Francisco's top fifteen, possibly only, all-kids' opera company.
After an initial round of tee-shirt fabrication for the kids, Little Opera founder and feather2pixel sex contractor EB  worked with me to print  something more suitable  for adults.  Since the kids' shirts, as you will recall, featured an  intriguing but possibly altogether inappropriate obscure  nineteenth  century composer, we figured there wouldn't be much to change.
The kids shirts featured a dark print on a light shirt: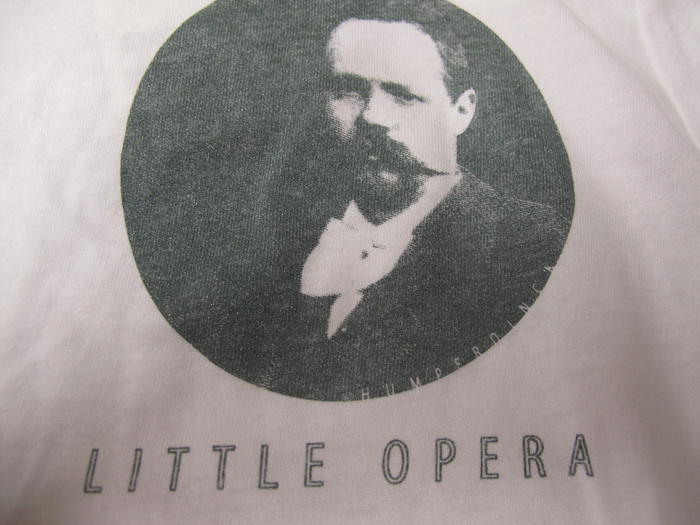 The adult shirts were printed with a negative image for the  slightly  more advanced light print on a dark shirt.  Getting a suitably opaque light print on a dark surface is a  notoriously  unfun screen printing technique to execute.  Conversely,  deliberately  executing light on dark poorly may result in this pleasingly nuanced monochromatic effect:
Cool, huh?  Amazing that it's just white ink with a little medium for transparency and sparkle for attitude.  To me it says "I give to charity but I don't take shit from anyone."
Here's negative and positive stencils: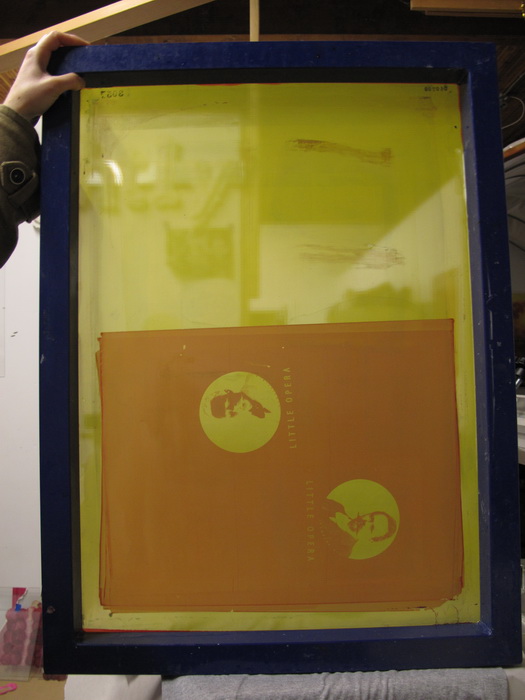 And finally, here is the staged joy of screenprinting: