Tricky Triangle
Pictures of Pictures
Alternative Spaces
Interview w/ Monica Variations
Ideas At Ocean Beach
Temporary Spaces
Extra Credit
Tricky Triangle
A new collection in threes By Jon Fischer
A TRIANGLE IS a plane figure with three straight sides and three angles.
A triangle is a fundamental form

--every triangle is self-balanced by nature.

The angles of a triangle

always sum to exactly 180 degrees because every triangle must perfectly fold back on itself in three straight steps.

Any point along the perimeter of a triangle

may be selected as the beginning of its closed path, but this also establishes the same point as the termination, and no one point along this path is more fundamentally suited than any other point to serve in this way.
"Tricky Triangle" is an ongoing collection of mixed media works. Tricky Triangles are relationships of threes that connect a closed path with no fundamental end nor beginning. A Tricky Triangle could present a passing joke or a universal human truth, a tenuous impression or an irreducible metaphysical situation.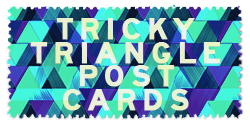 1. Past, Present, Future.
THE PASSAGE OF TIME is one of the least understood aspects of human existence.
The (meta)physics:

There is no consensus about what time is. It is true that we can measure the passage of time like we can measure the distance of a football field, but this just ends up demonstrating that time not the fixed entity we perceive it to be. One period of time, according to the most precise measurements we are now capable of making, can behave differently for separate observers. The sense of mystery is deepened by the observation that pure energy appears to be fundamentally linked to time: for reasons that are not understood the speed of light is the only truly fixed measurement of time that is currently known. This furthers the sense that any direct understanding of time is impossible.

The art:

This series asks the question "how is a physical imprint like our experience of time?" It consists of hundreds of screen prints on fabric, wood, and paper that are intricately layered and preserved in large geometric constructions. Here the screen printing process is used to recreate photographs, artifacts, and curiosities from many points along the course of a history that is definitely personal and possibly infinite. Part sixty pound tarot deck, part three way spacetime portal, and part optical illusion, each work sealed in resin is a unique capsule that contemplates the shifting interplay between natural rhythms, human cycles, and the closed path of time. Also, there are rhymes.

The solution:

If memory of the past is just a neurochemical imprint that gives us the power to generate meaning and beauty from pure randomness, can a mechanical imprint through a screen reveal the same thing? For reasons that are not understood, you have the ability to use available materials to imprint available experiences. Screen printing is the most literal way to do this.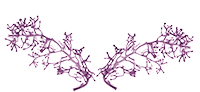 Studies, Diversions, and Side Projects
Sketchbook
Journal
I finally got around to photographing the second of two "Future" variations in my Tricky Triangle series. This version of "Future" is a little different from the first version. In this more recent variation, the homemade stamps are printed on American oak veneer rather than …