Tricky Triangle Pictures of Pictures Alternative Spaces Interview w/ Monica Variations Ideas At Ocean Beach Temporary Spaces Extra Credit
An Interactive Slideshow, A Boxing Robot
"American Fistfight" evokes the early era of cinema filtered through arcade culture. I created an infinite loop of rudimentary moving image sequences produced entirely on screen-printed 35mm slides. Visitors can maneuver the ocean-themed images and wordplay-rooted phrases for themselves through a primitive robot connected to several vintage projectors, observing the results as they are displayed on the gallery wall….. Project Page
To Make Trash Beautiful.
A wall installation of screen printed landscapes on discarded cardboard. Each piece is mounted in a sturdy wood box frame w/ 3" depth, giving install a handmade & uniform appearance. All cardboard art floats evenly w/ edges of frame.
Aim of presentation is to elevate the materials to the esteemed level of the modern art object w/ a pervasive sense of beauty and joy. To the emerging generation of makers, DIYers, participants in the sharing economy the sentiment is deeply familiar: sustainability not as fashion or obligation, but as an unwavering optimism about what is beautiful and important in the world. Project Page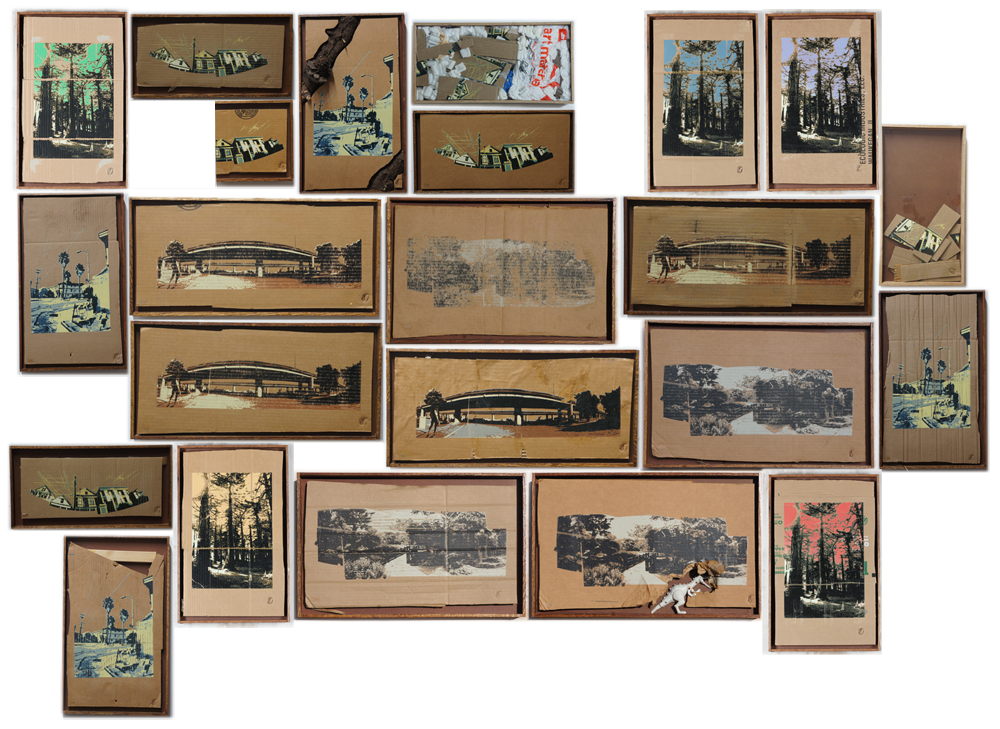 Alabama Street Variations
San Bruno Avenue Variations
Interstate 280 Variations
Moon Garden Variations
Precita Park Variations
Self effacing Unexpected & inspired neighborhood slogans are continuously regenerated by children exploring this interactive play station/site-specific word art installation. The magnetic tiles are interchangeable by column and I made eighteen tiles for each column (not shown). The installation will tour Precita area public spaces in 2014.