So a few months ago, a small girl asked me if I wanted a drawing.   I said of course and she promptly drew this and handed it to me: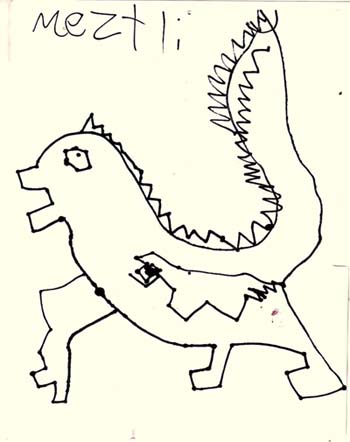 The longer I held on to it, the more I grew to admire its sophistication.   The quality of the line is deliberate and provocative.   Look at the way she used the small space.   She didn't hesitate to take the hind leg to the very edge of the page. And instead of cutting off, the tail curls up in to the upper corner of the composition.   All of this was created in a mere ten seconds.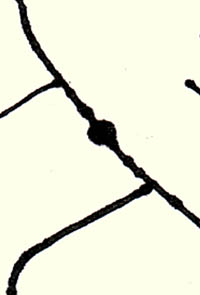 It got me thinking about how most kids are natural drawers.   And then at some point most kids decide they are lousy drawers.   And then they stop drawing.   Everyone knows that.
But I guess I never really stopped to notice how truly beautiful children's drawings are on their own terms.   Pretty much every kid drawing ever made is imbued with a sense of fearlessness and the fact that this fearlessness is something we seem to lose adds an inviolable quality to Metzli's monster and anything like it.
Anyway, this has been hugely inspirational to me recently.   All I want to do with the rest of my life is make art with kids and watch Pitt basketball.     So I dispatched a call for kids' drawings to 50 people.   I received, like, 150 drawings.   After a month and a half of printing, the result is my latest postcard series, Kid Monsters.   I designed the backgrounds, nine kids designed the characters, and lots of people helped me along the way.
I am selling the set for $13 plus $1 shipping, which will cover approximately 1/750th the time and cost to make them. Email me (jon@feather2pixels.com)   if you are interested and act fast cuz my last set of 50 sold out in two weeks!
Oh, and if anyone knows where I can find Metzli, let me know.