T
This is a big one I have been working on. One way or another, it's all happening soon.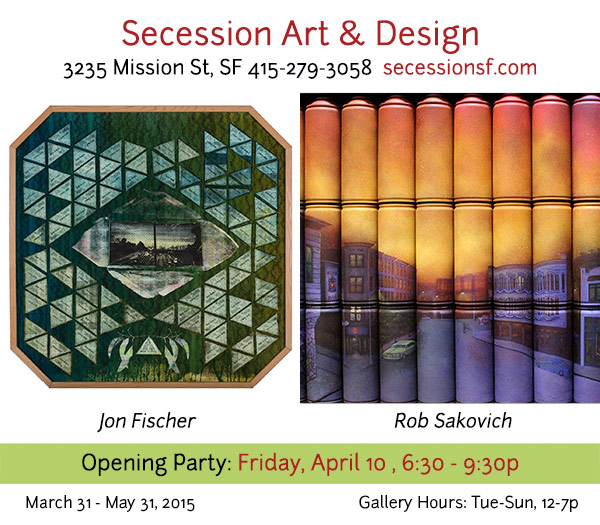 FOR IMMEDIATE RELEASE
Inquiries: Eden@SecessionSF.com
Opening: Friday April 10, 2015 |  6:30-9:30pm
Exhibition Dates: March 31 – May 31, 2015
3235 Mission St, San Francisco | www.secessionsf.com
March 16, San Francisco, CA – Perspective is a two-person exhibition of new works from San Francisco-based artists Jon Fischer and Rob Sakovich. Perspective will be on view from March 31 to May 31, 2015. The artists will be in attendance at the opening.
Secession Art & Design's spring exhibition featuring Jon Fischer and Rob Sakovich explores the parallel between personal path and urban change. Each artist draws from their own experience to identify moments that made them who they are as San Francisco artists. Both use art powerfully to document the current landscape, resilience, and the strength that comes from community.
San Francisco-based artist Jon Fischer presents "Tricky Triangle," a new collection of mixed media works. In this exhibition, past, present, and future are represented as three sides of a triangle that encloses a path with no fundamental beginning or end.  Forwards or backwards, this path leads to who you are at any moment. In Fischer's Mission District studio, he reconstructs hundreds of images on fabric, wood and paper to intricately layer an urban story that documents his timeline and connection to change in San Francisco. Geometric boxes made by the artist give boundary to screen-printed assemblages of photographs, artifacts, and curiosities. Sealed in resin, each piece is a capsule that ponders the shifting interplay between natural rhythms, human cycles, and the closed path of time.
Graffiti artist Rob Sakovich captures San Francisco in impressionistic paintings on spray cans, creating a 360-degree view inspired by how light changes the feel of the city. Spray paint and acrylic bring the art to life. Sakovich's current show features the view from Bernal Hill and a long shot of 29th Street looking towards Mission. Sakovich spent over two hundred hours in his Sunset studio painting all the details of the businesses and capturing the way the neighborhood looks right now. Beautifully detailed cityscapes create the mood to admire the urban landscape.
Secession Art & Design opened our Bernal Heights location in August of 2007, and has since grown to represent over 50 independent artists and designers. Our retail location is a gallery, boutique, and workspace combined, creating an untraditional storefront that allows customers to experience curated shows by owner, Eden Stein, and see the process of art being made in-house by Heather Robinson. In 2010 and 2012 through 2014, Secession was awarded Best Art Gallery by San Francisco Bay Guardian readers, for continuing to push the envelope in exhibitions and wearable art.
Gallery Contact: Eden Stein
415-279-3058
eden@secessionsf.com